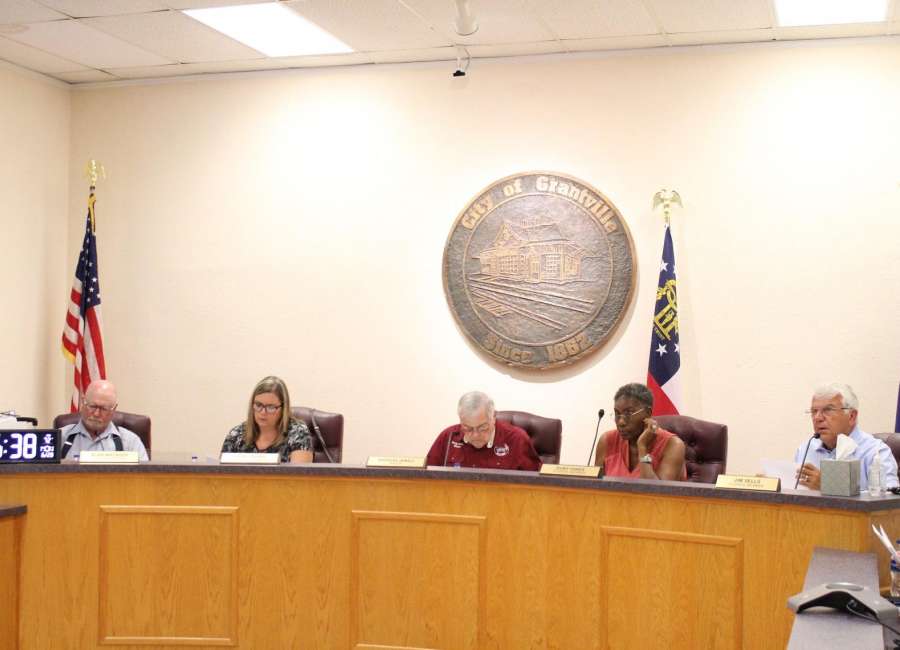 Jeffrey Cullen-Dean / The Newnan Times-Herald
The Grantville City Council votes to reimburse Mayor Doug Jewell's vacation costs to the Electric powered Towns of Georgia's Financial Enhancement Conference. From remaining, Alan Wacaser, Casey Evans, Mayor Doug Jewell, Ruby Hines and Jim Sells.
At its Monday evening conference, the Grantville Metropolis Council voted to reimburse Mayor Doug Jewell's costs to travel to a the latest meeting.
Jewell's costs value $978.12.
Town Supervisor Al Grieshaber mentioned the merchandise was additional to the city's conference agenda for the reason that of a slip-up he created.
"I signed the order order for the registration without the need of on the lookout at the vacation resolution," he explained.
Jewell attended the Electric powered Metropolitan areas of Georgia's Financial Development Convention. The convention was held April 27-29 at The Westin Jekyll Island Conference Center.
In accordance to the city's travel policy, furnished there is dollars out there, the mayor and associates of the town council are licensed to travel to Ga Municipal Affiliation conventions, legislative conferences, mayors conferences, Municipal Electric Authority of Georgia conferences and Municipal Gasoline Authority of Ga conferences.
Other travel should be accepted by the mayor and council.
In a previous Newnan Instances-Herald write-up, Jewell said the conferences are for furthering education and acquiring new concepts to bring back to Grantville. The mayor extra that he does not regulate wherever the conferences are held.
Council Member Alan Wacaser desired to know what Jewell introduced back again from the meeting, however, the mayor was reluctant to share.
"Mayor, I recognized you figured out of some very hot initiatives they have been doing work on. I might like to hear what they are sometime. You would not say the other day," he explained.
"It consists of serious estate promotions that have not been done however," Jewell claimed.
Wacaser included that the town formerly opted out of ECG's Community and Financial Development agreement.
The council also:
Appointed Selma Coty, Baron Lundy, Sandra Luttrell and Rodney Mowery as trustees on the Grantville Cemetery Have faith in. Marion Cieslik also serves on the have faith in as its chairman.
Authorised the yearly fireworks Fireworks Festival arranged by the Grantville Police Department on July 3.
Voted to keep Griffin Street as the city's Area Municipal Improvement Grant venture as a substitute of modifying it to Typical Street.
Made a decision not to just take action on a ask for to move the Charlie Patterson Highway railroad crossing close to 850 toes east of its latest location.